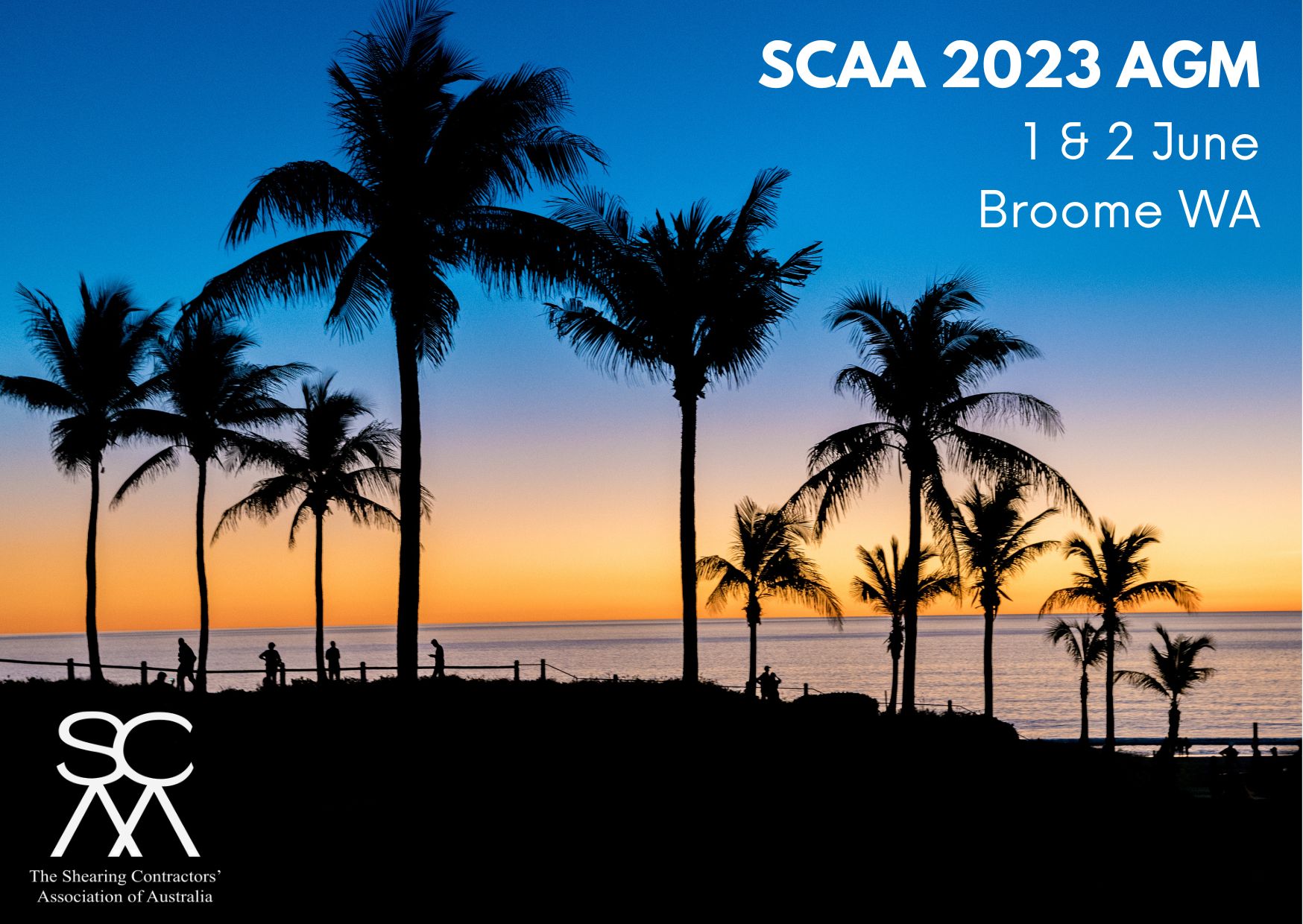 SCAA is pleased to announce that we will be holding our 2023 AGM in Broome WA.

This is a two day event, and all members are invited to attend.

DATE: Thursday 1 June & Friday 2 June 2023, 8:00 am - 3:00 pm.

VENUE: Mangrove Hotel, 47 Carnarvon St, Broome WA 6725.

ACCOMMODATION: A 10% discount and 30-day free cancellation policy is available to SCAA Members when booking directly with the following hotels:

Mangrove Hotel: (08) 9192 1303.

The Continental Hotel: (08) 9195 5900.



Use discount code SCAA22.



EVENTS: AGM dinner Thursday evening. We are also enquiring about a group boat charter, camel ride, or similar for Friday afternoon. Details to come.

RSVP: to Kirsten by 1 March 2023 to secure your spot.

News & Views
WHEN: 1-12 August 2022 WHERE: Tirlta Station – Broken Hill This 10-day course will allow you to develop the skills and knowledge to be able to: prepare handpieces and down tubes for machine shearing grind combs and cutters undertake basic shearing and crutching apply animal welfare principles to the handling of sheep recognise and report hazards […]
Updated 2022 workcover rates for Shearing Services (Shearing Contractors) have been emailed to all members. If you have any questions about pricing workers compensation and the additional amounts payable when you have a claim, please contact us.
The updated pastoral award for 2022-2023 came into effect 1 July. Award sheets have now been posted to all members and is also available for download in the Members Area of our website.